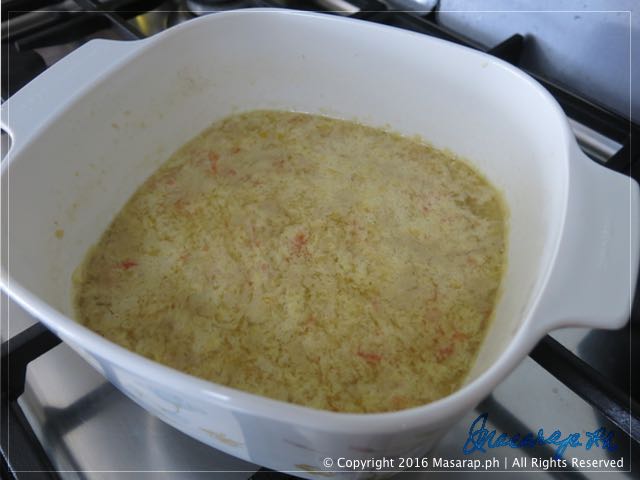 If you think about it, so much of our fond memories revolve around food. When I was in my teens, my family loved to celebrate in Chinese restaurants. My mother's favourite soup was this; but she would complain that it lacked heartiness; it was more like thickened dish water soup. I was already experimenting at that time and decided to please my mother and come up with something more hearty; therefore this recipe.
Another instance is my BFF in graduate school, Victoria Faicol, who was a non-cook, wanted to impress one of her visitors and asked me to give her a recipe that was super easy. We still often laugh together when we remember this moment.
Serves 6 persons.
Ingredients:
1 kilo blue swimmer crabs (alimasag; cook and peel) – set aside or 100 grams Kani sticks shredded
2 tablespoons cooking oil
1 can cream of corn (1 ¼ cups)
1 teaspoon crushed garlic
½ cup thinly sliced onion
4 cups of chicken broth or boiled water with 2 chicken cubes dissolved
â…› teaspoon freshly ground pepper
dash of salt
handful of baby spinach leaves or chilli leaves (dahon ng sili)
1 whole egg – well beaten
Procedure
Using a non-reactive pot, I like using either a glazed clay pot or a pyrex pot for this, so that I can cook in it and then straight to the dining table, pour the oil over medium heat.
Place the garlic and onion and saute till onion is opaque.
Add in the crab meat and saute for another 2 minutes.
Pour in the broth and simmer till the soup comes to a boil.
Taste and adjust the seasoning; adding the pepper and salt.
Bring the soup to a boil and drizzle the well beaten egg into the soup while stirring.
Add the spinach leaves, stir and serve.