I could write a chapter of my life dedicated to my friendship with Antonio (Tony) Kornerup. Tony is now smiling down at me from that blissful place in Paradise and I miss his challenging company. Instead of writing that chapter for this particular recipe, I will instead write down what he wrote about me. This piece came about in 1996, when I had asked him to write something about me; something that I might use for the publication of my book "The Secret Is In The Sauce." At that time of my life I didn't want it too known that that I was a 'witch'. But now, who cares if people know that I am a 'witch' and so, here is what Tony wrote about me.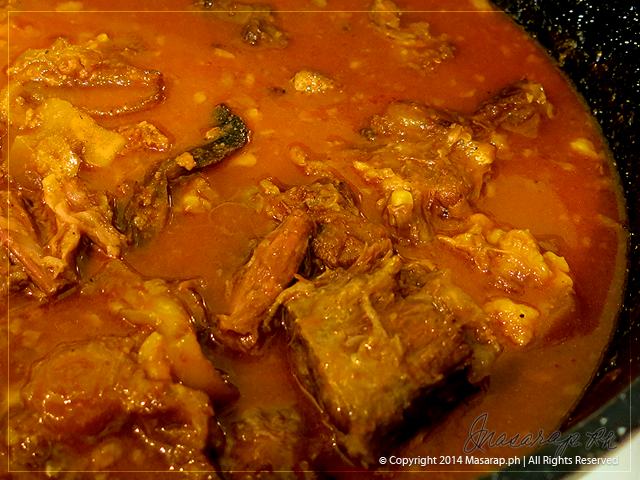 En el centro de la isla de Luzon, por alla en el ano de 1980.
It was hot, hot, hot! The summer's sun was at its peak, shinning over the plains of Central Luzon and over the Barangay San Isidro (not the one connected with the late famous fugitive), when a gentle breeze tickled my delicate and large nose with a subtle aroma that persisted over the dust and heat; it brought back from perennial memories the enchanting fumes given by cauldrons of magic concoctions performed by undefined and unknown culinary spirits. Enticed to follow it, I obeyed this strange compulsion until I discerned a very young and beautiful witch bent over cooking pans, emerging from cloudy steams, elaborating the family fare of the day, Kare Kare. Being a curious admirer of gourmet concoctions, I cast a spell inquiring about her enchantments. Her inner being was powered by a very strong will that flamed around her, like the interior fires that Mother Earth spews through active volcanic craters; her light was enticing yet dangerous; her warmth was sincere; her heart was very much palpitating with love for life, pain, concern, the Universe, the known and unknown, cooking and baking. That was my first look of
MARIANNE
As it was pre-ordained by destiny, we met physically in a very ordinary, every day store at the market place, in a dusty town with a Royal and Holy Name (San Fernando, Pampanga). Since then, through the years, glimpses of her life, her loves, her fights and difficulties, her quests in her way upon this Earth, were tenderly offered for sharing, commenting, dissecting, enduring and forecasting; knowing that the choices and decisions will dictate the outcome, the realization of dreams and enjoyment of daily toiling. Having a very active and restless mind, Marianne loves to experiment; to look for new ways to obtain and prepare new dishes; to share new culinary skills; should I mention her special and unique Baked Ham. People who had the opportunity to taste her culinary magic attest to her titillating of the taste buds. For the non-believers, I know that all of us who were blessed to taste her objects d'art, we are here; we survive. Try it.
Kare Kare
It is a special dish made with cow's tail and face; the flower of the Banana plant; peanuts, pole beans and other ingredients. Would you care to share the whole magical recipe for the benefit of your readers and admirers?
Cordialmete,
Antonio
El Indio Andino
Meat Ingredients:
1 Ox tail cut between bone segments
¼ cup cooking oil
1 teaspoon peppercorns
3 pieces bay leaves
enough water to cover for boiling
Sauce Ingredients:
¼ cup cooking oil
1 tablespoon crushed garlic
1 cup chopped onions
2 tablespoons shrimp paste (bottled and prepared bagoong alamang)
3 tablespoons roasted peanuts – pounded till fine
2 teaspoons roasted and pounded till fine, sticky rice (malagkit rice)
¼ cup anato seeds (atswete) juice (place 2 tablespoons of anato seeds in cup; mix 1 teaspoon lye water with anato seeds; add ½ cup boiling water; let stand for ½ hour; stir and then strain and get ¼ cup of liquid)
6 cups of broth from ox tail cooking liquid
1 teaspoon freshly ground black pepper
salt to taste
Vegetable Ingredients:
1 banana heart – remove hard outer cover till you reach the tender heart; prepare hot water in sauce pan with 1 teaspoon salt; cut banana heart in half (cross wise) and immediately place in boiling water and cook till tender; remove from water and cut into 1-inch thick round slices.
1 eggplant (asian variety) – cut into 2-inch lengths and steam till cooked (about 5 to 7 minutes)
5 pieces long pole beans – cut into 2-inch lengths and steam till cooked (about 5 minutes)
you can also use okra (lady finger), 12 pieces – steam for 10 minutes
Procedure:
In a cast iron frying pan, pour oil and heat till almost smoking.
Sear the ox tail cuts on all side till brown; set aside. Fry in batches.
In a casserole, place the seared ox tail and add enough water to cover the oxtail; add in the peppercorns and bay leaves and slowly simmer till the meat is very tender (this takes about 2 hours). Add water if the oxtail liquid begins to diminish.
When tender, remove meat from the cooking liquid; set aside and save broth for the sauce.
In a large and heavy casserole, over low fire, pour in the oil and warm.
When warm, add the crushed garlic and sauté till light brown.
Add the chopped onions and continue sautéing till the onions are wilted and transparent.
The add the anato liquid and continue sautéing. Sauté till the smell of the anato liquid is fragrant and not metallic smelling.
Then add the shrimp paste and continue sautéing for 2 minutes.
Add the peanut paste and mix well.
Pour in the broth and continue simmering for about 15 to 20 minutes.
Get a hand held blender and blender the broth mixture till fine.
Taste the broth and adjust taste; you can add more shrimp paste, peanut paste, salt and pepper.
Sprinkle the roasted rice and keep stirring till the broth becomes slightly thick.
Blender the broth to remove any lumps.
When the sauce tastes good, place the cooked ox tail pieces in the sauce and simmer, stirring continuously to prevent sauce sticking at the bottom. Simmer for about 10 to 15 minutes.
When ready to serve, place the cooked vegetables in the mixture; simmer for about 5 minutes and serve with shrimp paste sauce (sautéed bagoong).
You may also serve the vegetables separately.
Serve with boiled rice.
Additional Information:
In many countries, like Australia, one can easily find oxtail; but the skin from the oxtail is usually missing. What is Kare Kare without the skin! So to remedy this, I get one calf's foot, have it sliced into three parts by the butcher.
I then boil this calf's foot with enough water to cover; adding some more water if necessary; till the skin and cartilage are very tender; then remove the skin and cartilage and cut into bite size pieces and add this to the stew together with the oxtail.
One can also use the face of the beef or beef brisket in place of or added to the oxtail. The different parts must be tenderized separately since they all have different cooking times till tender.