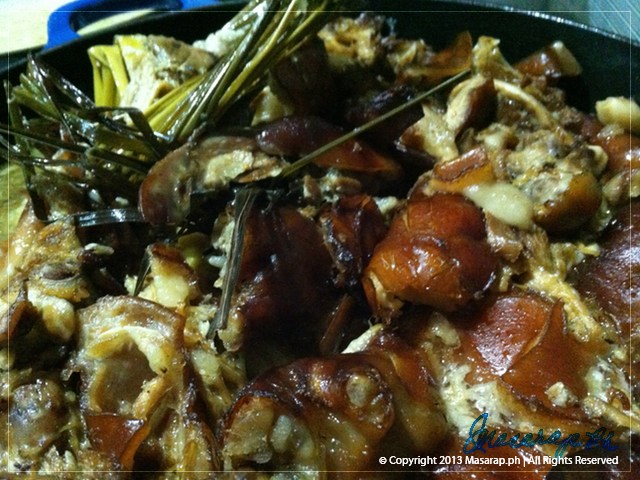 A Filipino celebration is not complete without Lechon! The hours-long, roasted whole pig. But sometimes we over estimate the appetites of our guests and there are left overs. Not to worry, here is a 'to live for' left over soup dish. Once you have tried this, you wish there was more left over of the lechon. On another note, this same recipe with the addition of 1/2 cup of green tamarind juice, and changing the Chinese cabbage into Kangkong leaves, will turn it into Sinigang Na Lechon.
Serves 6 persons.
Ingredients:
1 kilo left over lechon bits (or you can buy Lechon by the kilo)
1 tablespoon crushed garlic
1 cup onion – sliced
2 tablespoons cooking oil
1/2 cup minced lemon grass stalks, white part only – about 2 to 3 stalks
2 pieces lady finger chili – siling mahaba
2 to 3 tablespoons patis (fish sauce)
6 cups water
1/2 head of Chinese cabbage slice into 2-inch lengths
Procedure:
In a medium sized casserole over medium-low heat, place oil in pot.
Sauté garlic, onion and lemon grass till the onion is translucent.
Add the fish sauce and chili and sauté for 30 seconds.
Then add the lechon bits and water.
Bring to a boil and then turn down to a simmer and continue to simmer for 30 to 40 minutes or till the skin of the lechon is tender.
Adjust the taste with more fish sauce, freshly ground black pepper and salt (start with 1/4 teaspoon)
Add the Chinese cabbage and simmer for 1 minute and serve.
Note:
To make green tamarind juice –
1 cup green tamarind boiled with 2 cups water, till the green tamarind has softened; around 20 minutes. Mash the tamarind in the water and strain; get 1/2 cup to put in the soup.
Kangkong or water spinach – cut into 3-inch lengths; soak in water for 15 minutes; drain. Add in the soup and simmer for 3 minutes and serve.