When I was a child (noong bata pa si 'Sabel), Rellenong Alimasag was only served during special occasions. Why? Because it takes a lot of time to prepare it. Nowadays, you can buy canned, peeled, crabmeat; but it doesn't come up to par to the laborious, old-fashioned method. Alimasag is also known as Blue Swimmer Crab. Alimasag is much sweeter than Mud Crab or Alimango. Try and choose crabs that are similar in size so that there is no fight at the table. All the effort in preparing this dish is worth it.
Ingredients:
1 kilo alimasag (blue swimmer crabs) – rinse with cold water and drain. Place crabs in large saucepan and sprinkle 1 teaspoon of salt all over the crabs. DO NOT ADD WATER; THE WATER INSIDE THE CRABS WILL SUFFICE TO COOK CRABS. Place sauce pan over low heat and cover. Cook crabs for 20 minutes or til the crabs turn orange. Remove from heat and uncover and cool. Now comes the tedious part; remove and pick the crab meat from the crab, including the meat from the legs. Save the top shell of crab (carapace); that is where you will put the mixture. 

Set aside the crab meat.

2 tablespoons cooking oil
1/4 cup finely chopped onions
2 tablespoons chopped spring onions
1/4 cup finely chopped tomato – remove seeds before chopping
1 tablespoon Mirin
1/4 teaspoon fresh ground black pepper
1/4 teaspoon sea salt
2 whole eggs – well beaten till frothy
flour for dusting tops of stuffed crab
1 cup cooking oil for frying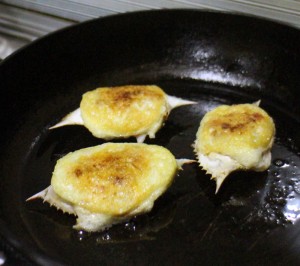 Procedure:
In a medium sized frying pan, set over low fire, pour in the cooking oil. Let the oil warm up.
Saute the onion till wilted or translucent. About 3 to 4 minutes.
Add the chopped tomato and continue to saute for another 3 to 4 minutes.
Add the spring onions and mix; continue sautéing. About 1 minute.
Add the crab meat and toss and turn.
Season with mirin, black pepper and salt.
Taste the mixture and adjust by adding salt and pepper to your liking.
After about 2 minutes, remove from fire and set aside.
Stuffing the crab shells:
Depending on the size of your crab shells, divide equally the crab meat mixture. Place mixture inside the crabshells, but do not over stuff.
Sprinkle flour lightly on top of the meat. Set aside.
In a medium sized frying pan, pour cooking oil and bring to 350ºF or 180ºC.
Beat the whole eggs til very frothy.
Place the beaten eggs, one at a time, on top of crab meat.
Very carefully, slide the crab shell, meat facing oil, and fry the Rellenong Alimasag for about 20 to 30 seconds each or til a very light golden brown.
Remove from fire and place over paper towel to drain excess oil.
Keep the fried crab in warmed over while waiting the rest to cook. Serve while hot.